Dear Brian,
You don't know me, but I listen to your podcast. More than that: I am a fan!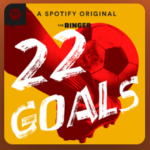 But: This is not a Podcast-rating of a football-interested journalist from Germany. This is an open letter to the author of one of the best sports journalism pieces of 2022. This is an attempt to resolve the moral dilemma surrounding one of the most beautiful and unifying sports on the one hand (picture above: Unsplash) and one of the most immoral and repudiatory sporting events on the other. There is a question hanging over this episode soon-to-be-launched Winter World Cup in Qatar that I have to ask you, Brian Phillips, who has been delighting me for weeks with the wonderful podcast "22 Goals":
How should I, as a football fan, deal with this exceedingly problematic event?
After listening to fourteen episodes of the "Ringer" podcast and imagining, the idea came to me: While Brian Phillips had to have his teeth cleaned by the dentist in this episode with his mouth wide open, the dentist told him, what a stupid idea it is to talk about goals that everyone wants to watch in the first place. But "22 Goals" proves the dentist wrong! I don't want to watch the goals in Qatar then, if Brian Phillips summarises them for me the way he has already done with historic goals and with ones I didn't know about before. I want him and all the other colleagues who travel to the Middle East to preserve the spirit of the sport and not leave it to those who put profit above all. I want that spirit to be preserved in a way that my favourite podcast of the year preserves the goals of World Cup history.
I am already aware that this is not a complete boycott of the games in Qatar (as has been called for in German Bundesliga stadiums in recent days, for example). But if one already assumes that one's own spectator behaviour can contain a political message*, then my proposal also includes a signal in the direction of "FIFA": I do not agree with the awarding and the circumstances of the World Cup in Qatar, but I agree with the open idea of football that unites people!
In studying the global history of goal-scoring (from the supposed playboy and tea baron Thomas Lipton to the rainy final in Moscow in 2018), at least this one realisation becomes clear: Football is bigger and more powerful than what FIFA has made of it.
And because football is so much bigger, we should not leave it to FIFA. From you, Brian Philipps, I have learned that in the beginning of worldcup-history English football has simply placed itself above FIFA – and ignored the first events of this organisation half benevolently, half contemptuously. I learned how football became more and more significant, how underdogs prevailed, how stars flourished, failed and yet somehow came back. All this is so much more important and exciting than the machinations of those who try to sell football. I don't want to agree with them destroying the idea of football. They can take the shell of the sport, but not its spirit.
But is that possible: Can I separate the art from the artist? Or rather, in this case: Can we separate the art and its artists from the disastrous, inhuman management?
The question of whether and which game to watch has become a moral dilemma that knows no good outcomes. The Economist compared watching this Worldcup with "long-haul travel in the era of climate change" and concluded: "enjoying this tarnished World Cup may require an offset for your conscience, a donation to a human-rights group, say, or an anti-corruption charity. An event that punctuates and brightens millions of lives is set to feel grubby and shameful."
Therefore, my request: Brian Philipps help us and report on the (important) goals of this now starting World Cup as you have done on the goals of the past. Not as a hectic live ticker, but as a social classification – and thus preserve an idea that is bigger and more powerful than the commercialism of FIFA.
If all this seems kind of silly or absurd, it's probably not wrong at all. It is the somewhat helpless attempt of a football fan to find orientation in a situation that only shows wrong turns.
Kindest regards
Dirk
* If my viewing behaviour should indeed have a political dimension, at least two questions arise. First of all: How can you create an impact that can really lead to change? Is withdrawn attention a suitable means for this? Shouldn't tangible consumption decisions be made? The German journalist Marco Seiffert suggests boycotting not the matches but the sponsors of the World Cup from the first match day: "If sponsoring a World Cup does not bring additional profits but losses, there would be consequences very quickly."
And secondly: If I look at the political level in dealing with this event, I would have to place much more emphasis on genuine commitment to human rights – for example, supporting Amnesty or Humans Rights Watch.
Die Fußball-Metapher: was man von 22 Goals über erzählenden Journalismus lernen kann